© 2018 Jill Pankey. All Rights Reserved.
Jill Pankey was a faculty member in the Art Department at Texas State University-San Marcos from 2002 to 2012. In 2013 Jill disengaged from academia to pursue painting full time and be with family. During the past twenty years, Jill has concentrated her effort in painting and drawing. Jill holds a Master of Fine Arts from the University of Texas-San Antonio, and a Master of Interdisciplinary Studies from Texas A&M Corpus Christi. She has also received meritorious awards from national, state and local art organizations for her paintings and drawings. In the summer of 2008, a residency was awarded to Jill and she spent her summer in Russell, New Zealand, painting for the Just Imagine Art Gallery. She grew up in Del Rio's Texas on Mexico border, which influenced her passion for color in her paintings. Jill considers her work as transformative (see link to transformative art) and is inspired by her surroundings, photography, drawings, nature, friends, events or graphic designs as a resource for creatingt oil paintings or graphite drawings. A few years ago Jill's brother passed away and he left Jill his cowboy boots. Western boots became a common theme in Jill's paintings as a tribute to her brother. She also donates many works of art to charitble organizations each year. Jill's art is currently shown in galleries in Texas, New Mexico, Arizona, and Oklahoma. Pankey is inspired by photographers such as Allen Ivy, Howard Schatz and painters such as Robert Heindel, Jenny Saville, Xenia Housner, and Paul Wright.
ARTIST STATEMENT:
I have been curious about the female form as far back as a young child and continue to experiment and exploring the figure as an artist today.  My message continues to grow and expand overtime, but my goal is to include an underlying theme about body image and personal meaning, while leaving the door open for the viewer's interpretation.  Much of my work focuses on color, pattern, and movement, while celebrating all women and body types at any age. In today's climate, I see hopeful changes coming for women.  In that direction I am inspired, by sisterhood, empowerment, body-image, humor, and aging with abandon.   I am not sure where this investigation is going to take me, but I am still highly inspired and motivated to go where this exploration leads me.
Jill Pankey
---
Galleries Representing Jill Pankey's Art:
Jane Hamilton Fine Art - Tuscon, AZ
La Posada de Santa Fe - Santa Fe, NM
Russell Collection Art Gallery - Austin, TX
Emerald C Art Gallery - Coronado Island, CA
Upcoming Shows:
Russell Collection Art Gallery - Sept.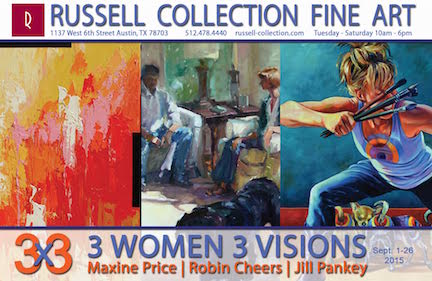 Jill Pankey recently completed a book titled The Near Death of a Painter and chronicles her painting series of "Pitbulls Are After My Chiwawas". If interested in receiving a copy, please inquire by emailing rbpankey1@gmail.com